1887-1940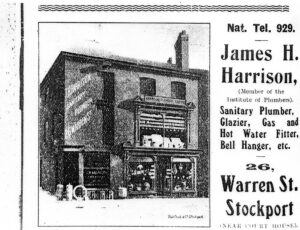 James H. Harrison started up a Sanitary Plumbing company on Warren Street, Stockport in the late 1800's.
1940
Ted Dean started work at J.H.Harrison and within a few years was running the company for the elderly James Harrison.
1950
Upon the death of James Harrison the company changed its name to Exors of J.H.Harrison with Ted Dean becoming a director of the firm with the Elderly Daughters of Mr Harrison.
1960
Ted Dean bought out the Harrison family interest in the firm and changed its name to 'J.E.Dean Ltd'
1967
The Company moved to Napier Street, Hazel Grove.
1970-Present Day
The Company became a limited Company under the name 'J.E.Dean (Hazel Grove) Ltd' and continues to trade under this name from it premises in Napier Street, Hazel Grove. The company is now run by Ted Dean's son and grandson, Warren and James Dean.